The second of our regular monthly on-line 200 lot auctions held on 6 March 2021 was another successful event with top prices achieved across a wide range of categories.
Top billing went to the superb Royal Scot class nameplate and badge HONOURABLE ARTILLERY COMPANY which four keen bidders took to an excellent hammer price of £14,800. Also, following the LMS theme, the Jubilee nameplate SEAHORSE made a highly satisfactory £7,400, well exceeding the seller's expectations. The third main line nameplate, the King Arthur class SIR URRE OF THE MOUNT sold for a solid £6,000. Other nameplate prices included AUSTRALIA (£1,550) from a Manchester Ship Canal loco, bought by an Australian Collector, and Bilsthorpe No 1 (£1,450) from a colliery locomotive.
Cabside prices included a strong £2,100 for 1007 from the GWR County of Brecknock with a Northern Counties Committee of Ireland plate No 13 making a high £1,250. Smokebox numberplate 51253 from one of those ever popular Lancashire & Yorkshire Railway small tank engines always known a Pugs sold for £1,400. Shedplates were as ever popular with the very rare 60D, the code for Wick with only five locos, almost reaching £1,000, and the earlier 34, the LNWR code for Patricroft, making £440.
A couple of fully engraved worksplate made strong money with the London Brighton & South Coast Railway No 81 selling for £3,100 and a Great Northern Railway example from a J1 class 0-6-0 for £1,750.

Totems as always with ourselves made a strong showing with the top price (£3400) paid for the Western Region example DEVONPORT in the experimental black and white colours closely followed by the east London STRATFORD (£3,200) and MATLOCK BATH (£2000). In similar vein a station direction sign pointing to Stoke Newington station sold for £2,600, the high price helped by the fact that the totems used at this station have never appeared at auction.
One of our signature categories, single line tokens, were again a very strong category with two very different items, a tablet Killin Junction-Luib, from a closed section of the Callander & Oban line and a GWR gangers key from Ilminster each selling for £2,100, with a tablet for the Lynton & Barnstaple Railway making £1,550. Block instruments also fared very well with a GWR train describer from the Birmingham area selling for an excellent £1,150 with a London & South Western Railway Preece instrument making £980 whilst, from the same company, a single lever plate marked TEDDINGTON sold for £840.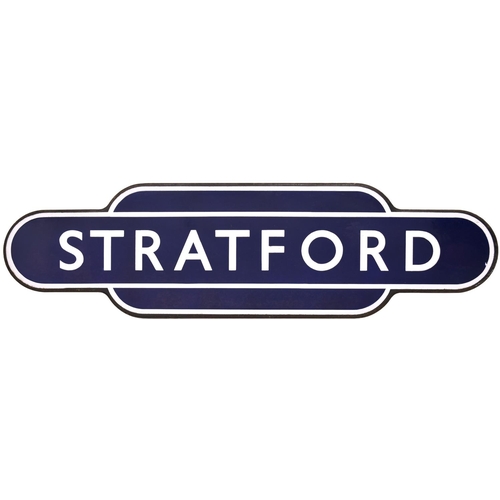 Posters again had a good day with the Cuneo GIANTS REFRESHED keenly contested up to £2,300.
In other categories, the kind of unusual, even quirky, items for which our auctions are renowned, notable prices included a South Devon Railway tipstaff (£1,200), a London & Dover Railway free pass (£800), a Lincolnshire Derbyshire & East Coast Railway matchbox including an enamel ticket (£720), a London Brighton & South Coast Railway watch (£720), an O gauge model of Princess Alice (£2,700) and a single Grand Junction Railway button (£760).
We are looking forward to our next 200 lot auction, packed with items of similar quality, on Saturday 10 April 2021. Watch this website!